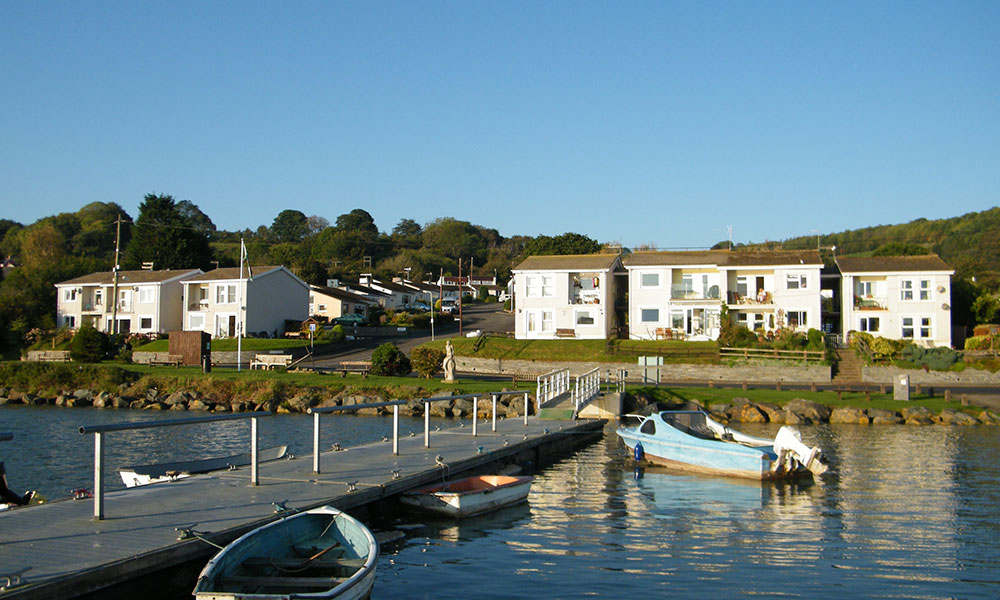 Location
Flat 9, Glanteifion, The Moorings, St Dogmaels, Pembrokeshire SA43 3GF
How to get there:
Normally by car.  Nearest rail stations are Carmarthen and Aberystwyth. Carmarthen has M4 access routes. There is a bus service between Cardigan and St Dogmaels, and from Cardigan to Aberystwyth, Camarthen and Haverfordwest. The 'Poppit Rocket' and similar provision serves people walking the Pembrokeshire Coastal Path (a key feature of the Pembrokeshire National Park).
Nearest Town:
St Dogmaels is ½ mile, Cardigan is 1½  miles, Carmarthen and Haverfordwest are 26 miles, Tenby is 32 miles, Aberystwyth is 38 miles. St Davids is 35 miles.  There are day ferry trips available from Fishguard (20 miles) to Ireland (Rosslare).
---
Local Area
St Dogmaels, has a village store, post office, 'chippy', and a twice weekly 'Farmers Market'. The Ferry Inn is 200 yds away, and offers top class food. Cardigan is 1½ miles away, with Tesco and Aldi supermarkets, and lots of town centre shops. There are plentiful good restaurants, and take-away food outlets.
Stunning views of the Teifi tidal estuary exist from the flat, with good birdwatching, and local walking opportunities. St Dogmaels has a range of churches and chapels, historic abbey ruins, plus good walking options. The historic Cardigan Castle (location of the 1st Eisteddfod) was restored in 2015;  a heated public swimming pool is available. Pembrokeshire National Park includes the famous 180 mile coastal path that begins just outside the flat, and contains the Preseli Hills and other wonderful landscape features.
Poppit Sands is 1.5 miles from the flat with good beach provision and Coastal Path walking. Other fabulous beaches exist nearby at Mwnt, Llangrannog, Tresaith, and Aberporth. Tenby is the nearest major 'resort' with lots of outstanding leisure facilities. Local boat trips around Cardigan Island are available to view dolphins and seals.
St David's and its historic cathedral and other heritage features are within easy reach.
---
Facilities
The accommodation is a ground floor apartment overlooking the Teifi estuary, with easy access, but no disabled provision.
There is a spacious lounge, a dining area that seats six, a well equipped kitchen, and a bathroom with walk-in shower provision. There are two bedrooms – one double, one with two singles, plus a bed settee in the lounge, so that, if required, there is sleeping provision for up to six people. A travel cot is available for use with small children.
The conservatory overlooks the river Teifi, and offers a relaxing quiet space with spectacular views all year round. The lawned garden and patio includes outdoor furniture and also overlooks the river estuary. A generous car parking area to the rear has dedicated parking space for the accommodation. The apartment is all electric, including night storage heaters in all rooms – electricity costs are included in charges.
Bedding is provided.  Guests are asked to provide their own towels. An iron and spin-dryer are provided, and there is a TV, video and DVD player. A local BT hotspot enables wifi connectivity, and is free to existing BT customers, with short term rates available to others.
---
Additional Photos
---
Costs
Variable according to season from £275 p/w upwards.
A modest increase has been made in 2021 to cover much more stringent cleaning provision during the Covid19 epidemic
10% discount is offered to clergy and paid church staff.
Energy Provision: All electric – charges included in tariff.
---
Availability
Available all year round.
During the current Covid19 epidemic, bookings are provisional upon Welsh advice and restrictions in respect of tourism.  Any deposits made will be refunded in full or transferred if holiday arrangements have to be cancelled.
Arrival and Departure times: 10.00 am departure time. 3.00 pm arrival time.
Booking arrangements: Saturday to Saturday, except by special arrangement outside of main holiday seasons
Pets: Limited permission – by agreement
---
Contact the Owner
If you are interested in making a booking, or you would like further information, please get in touch using the following details:
Name: Canon Gordon Dey
Phone Number:  01274 674565
Email Address: gordondey1@gmail.com