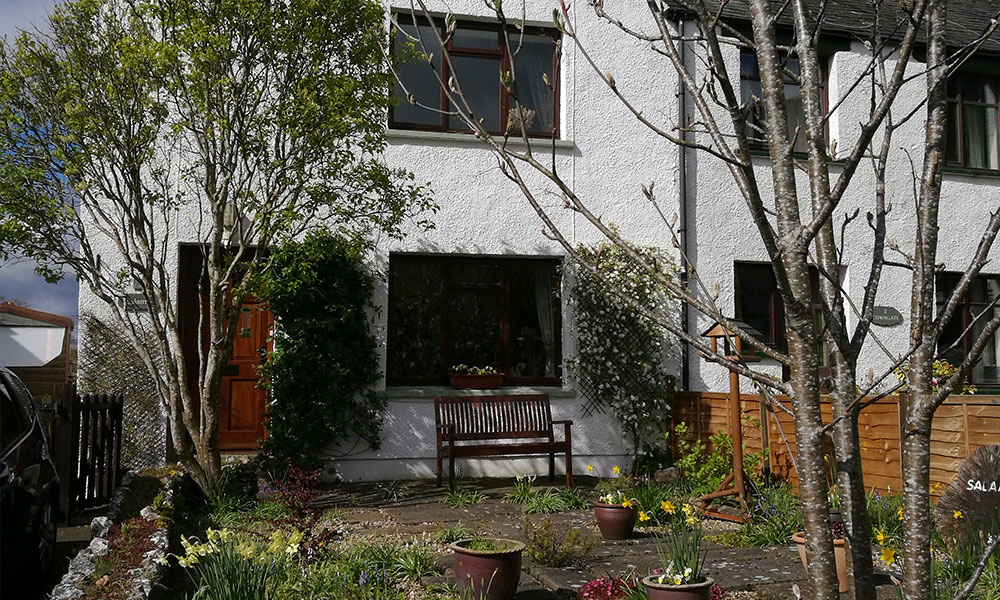 Location
Salamat, 3 Towngate Cottages, Threlkeld, Keswick, Cumbria CA12 4RX
How to get here: Easily accessible by road; Trains (west coast mainline) to Penrith; Hourly bus service through the village between Penrith and Keswick.
Nearest Town: Keswick 3 miles, Penrith 14 miles; Ambleside 16 miles.
---
Local Area
Keswick (3 miles) has the nearest 2 supermarkets (Booths & Co-op) but if you are travelling from the M6 and want to stock up before you arrive, then Penrith has at least 3 more. There is a huge variety of pubs and restaurants to suit every taste and pocket in Keswick, plus more hiking equipment shops than most places in the country! But other shops too with the tourist especially in mind. There is also an open air market every Saturday.
Nestling beneath Blencathra, Salamat is in an ideal holiday location with walks straight from the house and a village playground. The northern Lake District is geared up for tourists all the year round and you will find a large collection of brochures to browse through when you arrive at Salamat. A Tourist Information centre, a theatre, a very good Museum, a number of galleries and a swimming pool are all located in Keswick. A golf course is just up the road from Threlkeld.
---
Facilities
Salamat is a spacious three-bedroom cottage which sleeps five / six people comfortably. It has been tastefully modernized while keeping a traditional Lakeland cottage feel with stunning views of mountains and valleys from every window. There is car parking for 2 cars.
3 Bedrooms: a master bedroom with king size bed; a single / twin room; a Loft bedroom with double bed and seating area. (Access via steep stairs with child safety gates). All the very comfortable beds are equipped with two different weight duvets and pillows. Sheets, pillowcases and duvet covers are provided. Towels are available for a modest extra charge.
The lounge has an open fire, Wi-fi, SKY, LCD TV, DVD recorder, CD player, radio, lots of board games. a wide range of books, maps of the local area and walking guides.
The Spacious kitchen has an extendable table and 3 walk-in storage cupboards. All mod cons, including dishwasher, microwave, fridge and small freezer, fan assisted cooker, washing machine and tumble drier. There is a downstairs loo.
The Bathroom is modern, warm and has a shower over the bath.
A Sun room looks out across the fields and fells.
Shed with a BBQ, garden table and chairs ready for sunny days!
---
Additional Photos
---
Costs
Summer: May half term – Oct half term (inclusive).  Also: Easter, Christmas, New Year.
2 Adults: £390
Children (under 12 yrs): £20 each
Additional adults: £40 each
Winter: Oct half term – May half term
2 Adults: £380
Children (under 12 yrs): £10 each
Additional adults: £25 each
Energy Provision: Heating is included in the tariff. Central heating throughout; an open fire in the lounge. Supplies of logs and kindling are provided. There is usually a bag of coal which folk are asked to replenish if it runs out!
---
Availability
Available all year round.
Arrival and Departure times: During holiday periods bookings are normally from Saturday to Saturday. Arrival at 4pm and departure at 10am is helpful. At other times of the year there is more flexibility.
Pets: Well-behaved dogs are welcome if they will stay in the kitchen/sun room area. There are fields of sheep around the cottage and it is essential that dogs remain on a lead.
---
Contact the Owner
If you are interested in making a booking, or you would like further information, please get in touch using the following details:
Name: Sue Kiernan
Phone Number: 01524 39973 / 07810 562827
Email Address: suekiernan@gmail.com
Website: www.salamat.co.uk