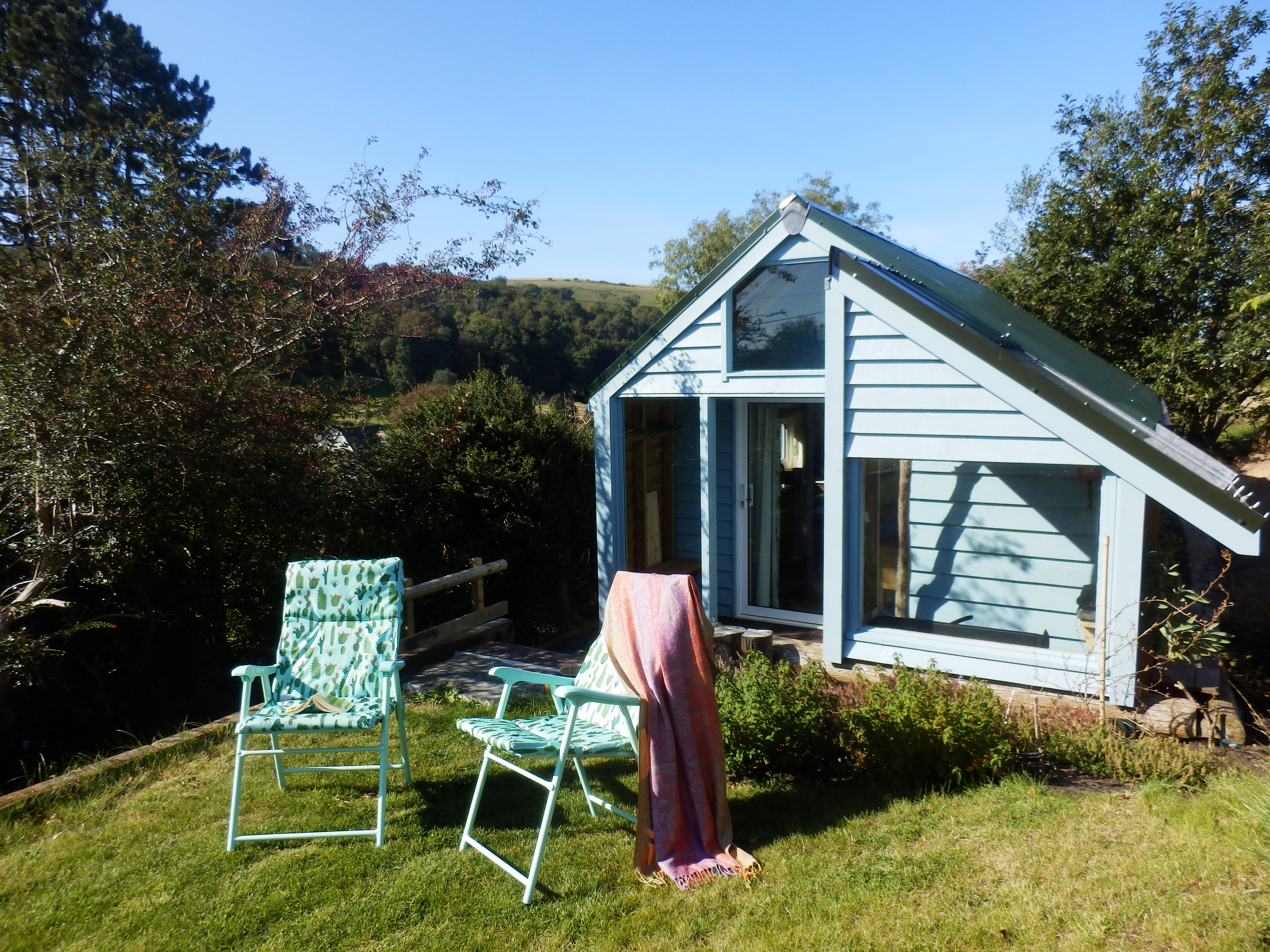 Location
Tangnefedd Cabin:
A rustic retreat in the village of Llandre, between Aberystwyth & the Dyfi estuary.
Tangnefedd is in the grounds of Brynawel with a hillside view over the village.
The area offers wonderful walking, fantastic beaches (eg Borth – 2.3 miles) and the Wales Coast Path. Machynlleth, the Ancient Capital of Wales, is thirteen miles north of Llandre. It is a vibrant market town set in stunning scenery, with a Wednesday market and plenty of independent shops. Cadair Idris and the Centre for Alternative Technology are a short drive away.
---
Local Area
Llandre is a small village with St Michael's Church a ten-minute walk away, across the railway line; services are bilingual. There's a children's playpark and tennis courts, a woodland walk and poetry path. A café, shops and restaurant lie within walking distance.
The university town of Aberystwyth, is on the coast to the south. Bow Street and Borth are both within three miles and have a few small shops Borth also has cafes, a restaurant and a small cinema. Ten minutes' drive north, is Cletwr Community café with local produce, exhibitions and books of local walks. Just beyond that, the RSPB Nature Reserve Ynys Hir and Osprey Project. This is worth a visit for those who enjoy gentle walks, varied scenery and opportunities to observe a wide variety of coast, woodland, wetland and farmland birds and plants.
---
Facilities
Tangnefedd Cabin has an open plan living space. There is a characterful King size bed, book shelves and clothes storage – all handmade onsite using home grown Silver Birch. A single bed can be put up for a third guest by prior arrangement. Bed linen and towels are provided. It is electrically heated, double glazed and well insulated. The cabin is accessed through French doors from the small porch with boot and coat storage and composting loo.
The kitchen area includes;
sink with hot water.
fridge with small freezer compartment. This is stocked with a welcome breakfast.kettle, toaster & combination microwave oven
Storage well stocked with crockery & utensils, pots & pans.
Outside: Covered cooking area with good, 2-ring camping stove.
A Victorian washstand and bowl provide separate washing facilities from the kitchen area.
Because of the topography, this isn't a suitable destination for those with limited mobility. There are lights outside the cabin to help navigate the steps and uneven ground. There is a private shower and flushing toilet 60 metres along the path.
---
Additional Photos
---
Costs
Prices
2 or 3 night stays : £60 / night (£40/night single occupancy)
4 or more nights : £50 / night (£35/night single occupancy)
Price includes all energy costs.
Availability
Available all year round.
Arrival and Departure times: 10.00 am departure time. 3.00 pm arrival time.
Booking arrangements:  Booking confirmed with a deposit and the balance to be paid one month before arrival.
Pets:   Unfortunately, we cannot cater for pets.
---
Contact the Owner
If you are interested in making a booking, or you would like further information, please get in touch using the following details:
Name: Judith and Rod Raikes
Phone Number:  01970 828386
Email Address:   gerddi.ephraim@hotmail.co.uk