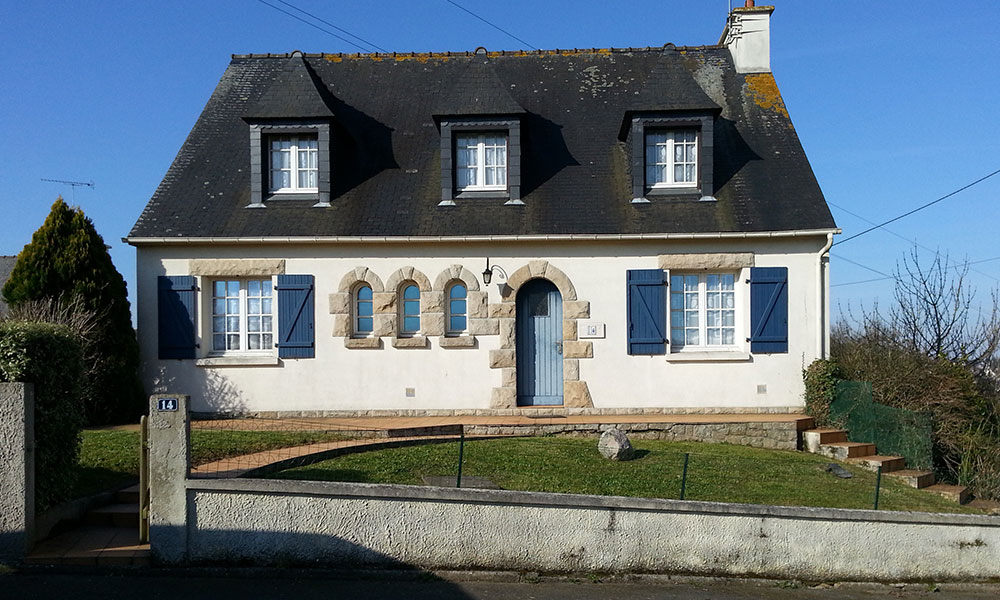 Location
14 rue Victor Hugo, 22130 PLANCOËT
How to get here:
St Malo: 30 mins
Cherbourg: 3 hours
Roscoff: 1¾ hours
Caen/Ouistreham: 3 hours
Nearest Town(s): Plancoët, Dinan (15 mins), Dinard (20 mins)
---
Local Area
Our house is situated in the pretty town of Plancoët, a small market town in the department of the Côtes d'Armor (northern coast of Brittany). Plancoët has small shops and restaurants to meet most needs, decent sized supermarkets (Hyper U, E Leclerc and a smallish Lidl) and good medical facilities. The larger towns of Dinan (15 minutes by car) and St Malo (approx 30 minutes) are easily accessible.
The beautiful beaches of the north coast are very close, with lovely fine sand, easy access and are fabulous for families with young children. The area around the house is very quiet and restful, although not cut off from the small town.
---
Facilities
Downstairs: Large lounge/dining room with doors opening onto the patio; library; small lounge; kitchen; bathroom; separate WC.
Upstairs: Three double bedrooms (two with double beds and one with two single beds and a single "roll-under" bed); play area for children; shower room with WC.
Outside: Raised patio; garden with swing and slide for small children.
Please note that we are a totally non-smoking household and would be very grateful if you would only smoke outside in the garden.
---
Additional Photos
---
Costs
2019 Prices
Low season (from 20th April to 17th May and 28th September on) £250 per week
Mid season (from 18th May to 21st June, 31st August to 27th September) £325 per week
High season (from 22nd June, July, up to 30th August) £400 per week
Discounts
We offer a reduction of £50 on any consecutive week(s) booked and only let to clergy, church staff and church members.
Energy Provision: Costs for reasonable amounts of electricity and gas are included in the above, but heating is not as we usually only let during the Summer months. If heating will be required, please let us know.
---
Availability
Available May to October.
Arrival and Departure times: Arrival time on your first day: 2.00 pm at the earliest. Departure time on your last day: 11.00 am at the latest.
Booking Arrangements: Please note that at the moment we only let the property from Saturday to Saturday and cannot arrange weekend breaks. We do not employ a cleaner, so all cleaning should be done by yourselves before vacating the premises, on a "Please leave it as you would wish to find it" basis.
Pets: Visitors who wish to bring their dog can do so at their own risk. We would be grateful if you could you please let us know at the time of booking if you are planning to holiday in the house with your dog. Also, we would ask you not to leave your dog alone in the house while you are out. The garden is completely enclosed, although the wire fence at the front of the property is a little low (around 3 feet on top of a small wall with a much higher drop on the pavement side) but our dog Zack (a Border Collie) has never attempted to get over it (and neither did our previous dog, but maybe we just have unadventurous, lazy ones!).
---
Contact the Owner
If you are interested in making a booking, or you would like further information, please get in touch using the following details:
Name: Lucy Gay
Phone Number: 01803 843031
Email Address: lucyrgay@googlemail.com