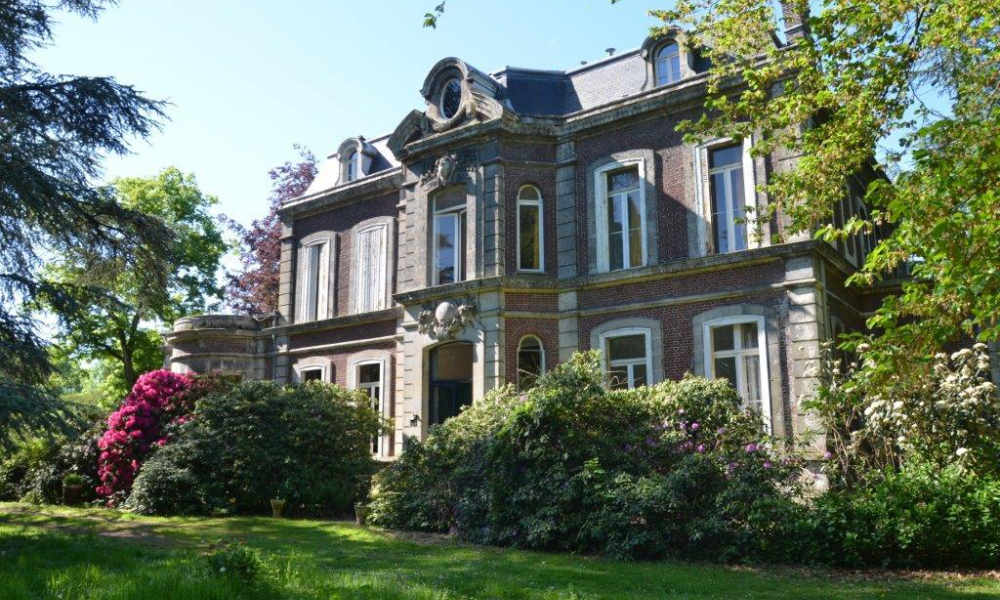 Location
14 rue Joseph Béghin, 59239 Thumeries, Hauts de France, France
How to get here:
The normal and easiest acess is by road. We are 10 minutes from the A1, the Lille Paris motorway.
Trains come from Lille to Libercourt station which is 6 kms away.
There are buses to and from Lille. (It takes I hour.)
Lille Lesquin airport is 23 kms away.
---
Local Area
The chateau is in a village on the edge of a pretty rural area "Le Pevele" and the former mining region "Le Bassin Minier", classed as a world heritage site.
There are shopping centres, restaurants and other eating places in the neighbouring towns. The village has a supermarket, some places to eat and a bakers.
Around the village there are woods and fields with walking and cycling. There is a (bird) nature reserve next to the village and others in the area. World war sites are within easy reach by car and there is a richness of regional museums. The old city of Lille and Arras are within easy reach. Bruges, Brussels, the Opal coast and even Paris, are possible for day trips.
---
Facilities
There is private parking and Wifi. All bedding and towels are provided. Games are available for children. There is plenty of outside space with picnic tables and a shared BBQ.
Bed and Breakfast: we can sleep up to 12 people in 5 rooms.
There are 3 rooms with an en suite (shower) for up to 3 people.
There is 1 family suite of 2 bedrooms (1 double 1 twin singles) with a private bathroom for 4 people.
The bedrooms are on the 2nd floor of the chateau. There is no lift.
The Cottage: sleeps up to 6 people in 3 bedrooms; 1 double, 1 with twin singles and one with a double bunk. There is a separate bathroom and a fully equipped open plan kitchen/living/dining room area with TV, dishwasher, microwave, washing machine and dryer.
The stairs are slightly steep and may be difficult for people with restricted mobility.
---
Additional Photos
---
Costs
Bed and breakfast
Room for 1 person 35 euros.
2 persons 50 euros
3 persons 65 euros
4 persons (family suite only) 80 euros.
Cottage
Weekend (or 2 day hire) 150 euros
Per week 300 euros
Per month : please contact us for reduced rates.
We give special rates for non-salaried Christian workers. Please contact us for details.
Energy Provision: All charges are included.
---
Availability
The facilities are available all year round. The bedrooms are heated but we do not guarantee heating the whole chateau for short winter bookings.
Arrival and Departure times: The normal arrival time is between 17h and 22h. The normal departure time is before 11h. If these need to be varied, please contact us, we can often be flexible.
Booking arrangements: We try to be as flexible as possible. Saturday starts and weekends are the most popular.
Pets: Pets may be accepted if the owners take personal responsibility for cleaning up after them and making good any damage. Please contact us.
---
Contact the Owner
If you are interested in making a booking, or you would like further information, please get in touch using the following details:
Name: Christopher Morton
Phone Number: 0033 320865824 / 0033 767563260
Email Address: contact@chateauduparadis.eu