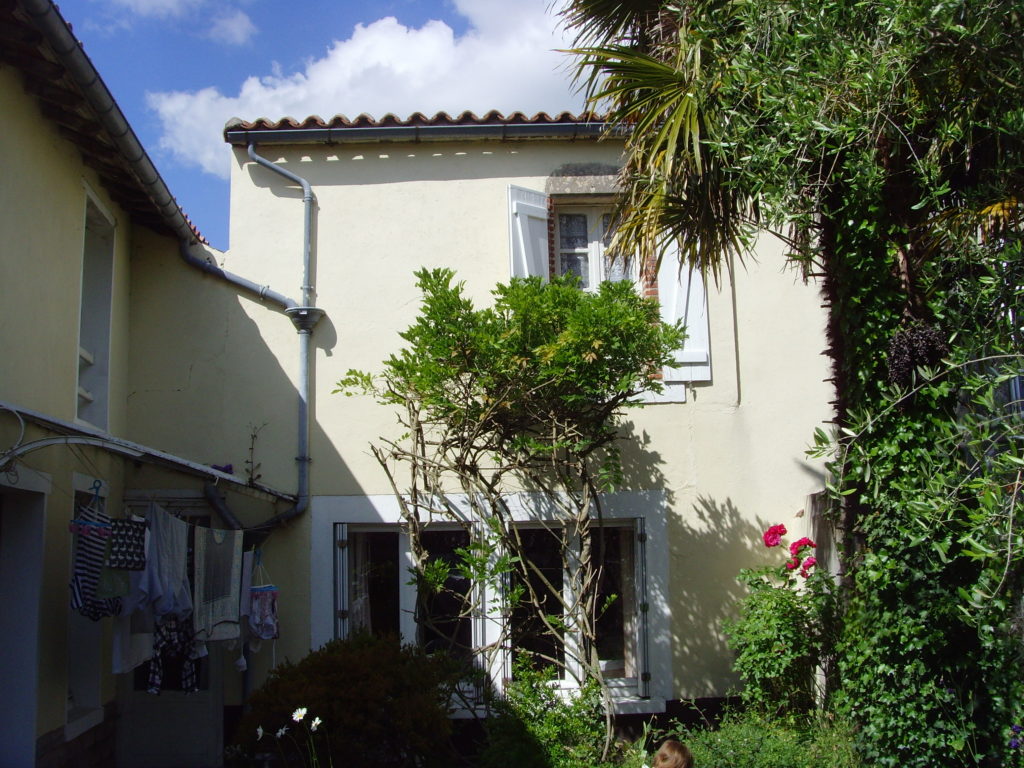 Location
15 Rue Georges Clemenceau, Mouilleron en Pareds, 85390 Mouilleron St Germain, Vendee, France
How to get here:
Travel Access By Air – to Nantes or La Rochelle (1 and a half hours away)
By Ferry – either to Caen or St. Malo
Nearest Towns: Chantonnay (10 miles), La Chataigneraie (5 miles)
---
Local Area
In the village – small supermarket, excellent boulangerie/patisserie, fresh vegetable stall on Fridays, fish stall on Saturdays – all on rue Clemenceau only a minute's walk away. Chemist, hairdressers, Post Office, café bar, three restaurants, camping site and leisure centre. Two museums devoted to Clemenceau and Le Marechal de Lattre, both born in the village.
Large supermarkets in Chantonnay and La Chataigneraie.  Market in Fontenay-le-Conte on Wednesdays and Saturdays. Numerous restaurants in the immediate area.
Leisure Attractions:  Walking, particularly in the nearby forest of Mervent, swimming in lakes or newly refurbished  pool at La Chataigneraie, medieval villages, churches and abbeys.  Altlantic coast and beaches, Poitiers and Futuroscope  – an hour and a half away,  World famous Grand Parc du Puy du Fou thirty five minutes away.
---
Facilities
A spacious terraced house offering accommodation for 8.
There are four downstairs rooms comprising kitchen, dining room, lounge and former shop plus bathroom. We use the former shop as a bedroom. It has a divan bed with another underneath and is suitable for the disabled.
Upstairs are three double bedrooms and two shower rooms with toilet.
There is an enclosed south facing courtyard and garden with plastic tables and chairs, plus a small table and chairs for children.
Car parking is on the street outside or in the square at the end of the street.
No TV/Wifi but we invite people staying to use books or games provided only asking they be replaced where they were found at the end of the stay.
Quilts/bedding provided but please bring your own sheets and quilt covers.
We spend half the year in Mouilleron ourselves and have equipped the house to welcome our children and grandchildren.
---
Additional Photos
---
Costs
April – June and September-October: 385 pounds per week.
July – August: 450 pounds per week.
Energy Provision: Includes energy costs.
---
Availability
The house is available only between the dates listed above.
Arrival and Departure times: Departure time on Saturdays is before 10 am and arrival time is after 3 pm.
Pets: Sorry no pets, or smoking in the house
---
Contact the Owner
If you are interested in making a booking, or you would like further information, please get in touch using the following details:
Name: Canon and Mrs Martyn Crompton
Phone Number: 01484 859320
Email Address: martyn.crompton@gmail.com